David Ferguson, MD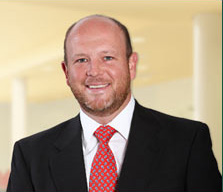 David Ferguson, MD
Dr. David Ferguson is a fellowship-trained orthopedic surgeon and is Board Certified in Orthopaedic Surgery by the American Board of Orthopaedic Surgery. He specializes in replacement of the hip and knee joint as well as revision hip and knee replacement.
After graduating from Eastland High School, he received his undergraduate degree in business management at Baylor University graduating magna cum laude. He then attended medical school at the University of Texas Health Science Center in San Antonio. He completed an orthopedic surgery residency at Scott and White Hospital in Temple, Texas. From there, he went on to complete a prestigious fellowship in adult reconstruction at the world-renowned Cleveland Clinic, in Cleveland, Ohio (one of the top three orthopedic hospitals in the world as ranked by US News and World Report). While at the Cleveland Clinic, Dr. Ferguson was trained in the latest techniques in both surgical and non-surgical treatment of arthritis and advanced joint disease.
Dr. Ferguson was previously practicing in Midland, Texas, where he implemented a program which combines a less invasive surgical approach, a multimodal pain management program, and a rapid recovery protocol which allowed many of his patients to be discharged to home from the hospital sooner, with less pain, and with a quicker recovery. While in Midland, Texas, Dr. Ferguson pioneered outpatient total joint replacement allowing some patients to go home the same day as their procedure and recover in the comfort of their own home.
Dr. Ferguson and his wife Holly are both graduates of Baylor University. They have three children who keep them very busy. Dr. Ferguson enjoys being active in their church, playing golf, traveling, hunting, fishing, coaching their children in sports activities, and cheering on the Baylor Bears.
Dr. Ferguson's personal statement to his patients:
I love getting to help patients improve their quality of life and get back to doing the things they want and need to do with less pain. Arthritis can be very debilitating and I offer both surgical and non-surgical treatment options to manage knee and hip pain and stiffness. I constantly strive to make the recovery process easier, faster, and less painful. I have tailored my practice solely to this area of orthopedic surgery in order to bring expert joint replacement care to the patients of the greater Waco area.
Hip and knee replacements are two of the most successful surgeries in all of medicine. Whether you are a former athlete, weekend warrior, or just want to enjoy your kids or grandkids with less pain, I am committed to helping you get back in the game of life.
To Know More about Dr. David Ferguson Visit SouthWest Sports Medicine website